Unleash your power of vision
You are just one decision away from shaping your vision into reality. Being one of the largest producing shipping container homes in the Philippines, we have modernized container houses into portable tiny living boxes. Now you can not only buy shipping containers but also modify and customize them as per your needs and container house plans. With a dedicated team of professionals we design and engineer to add a variety of functional features that assist with security, convenience, access, organization, versatility and more. TopUniverse strives for extra supplies to make a perfect dreamy container home by transforming 20ft, 40ft or small shipping containers.

Some more examples of a customized container home designs include:
Adding doors & windows
Extending the length of the container
Painting the unit in your preferred color
Incorporating ventilation, insulation, and air conditioning
And more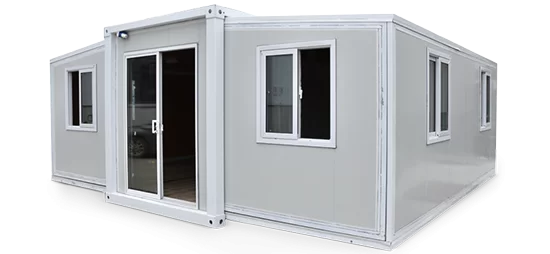 Our new folding container house is easy and quick to install in 4 minutes. Installing foldable container houses is the best solution for disaster rebuilding and construction site housing. We offer economical, fireproof, waterproof, soundproof and easy to install foldable container homes that are widely used in construction site offices, hospitals, camps, etc.
Products
Shipping container houses are more than just small steel boxes packed. Container homes are gaining popularity as they are portable and offer many benefits that are not available in a traditional housing situation.
Easy Install Luxury Portable Toilet
All your daily sanitary needs are met by our outdoor portable toilet that is widely used in various places, and also it can be leased or used as a rental portable toilet.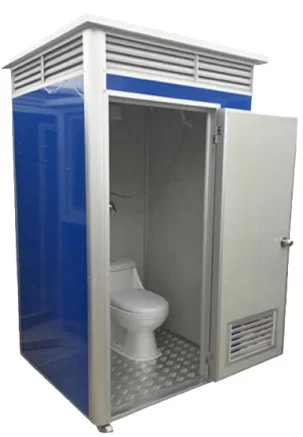 Our portable public toilet is quite easy to install in an outdoor public area, such as a warehouse, park, workshop, tourist resort, avenue of cities, etc. These portable toilets are indeed convenient and perfectly meet people's daily needs. The tiny outhouses are easy to assemble screws and bolts instead of welding. It takes around one hour to assemble one unit with the help of two men.
Advantages:
Easy cleaning and long life service
UV resistance, Antioxidant,Anti-ageing
No fading, Good fatigue strength
Abrasion-resistant, Corrosion-resistant
Recyclable, Eco-friendly products
Easy installation, Easy dis-assembly
No need to connect water for sewage discharge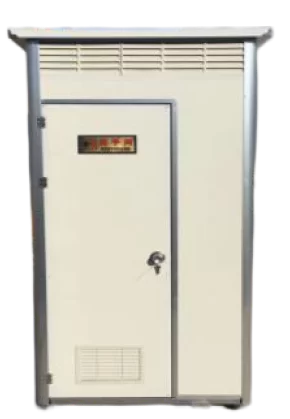 CONSTRUCTION CONTAINERS TO MODIFY
The possibilities of modifying containers are endless. Our team of professionals modify containers into any size, custom-built as per your choice. Pick the containers of your choice between cargo-worthy or one trip (new) containers for your custom container project.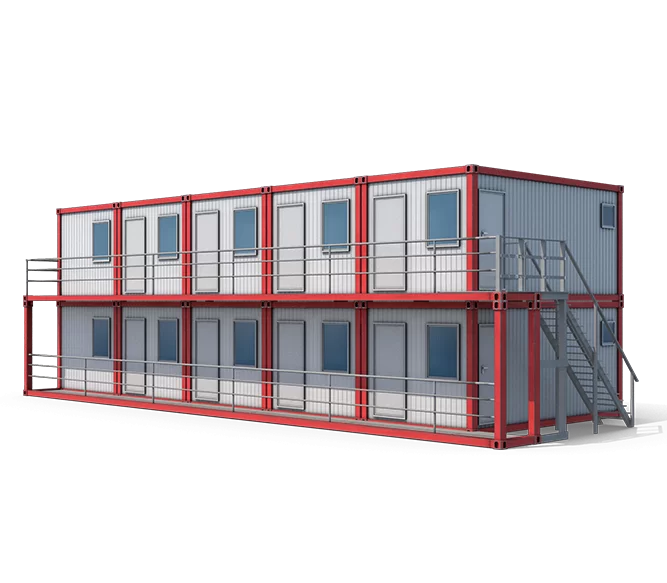 Low cost of construction
Affordability is the reason why the interest in using shipping containers as permanent homes is increasing. Second-hand containers converted into container van houses are a lot cheaper than buying a house in a city or the suburbs. Lesser labor and a minimal installation of foundations (if any) is a factor that containers have that conventional wood-brick-cement houses don't.
Examples of our Container Modifications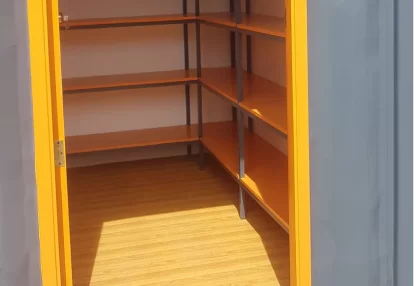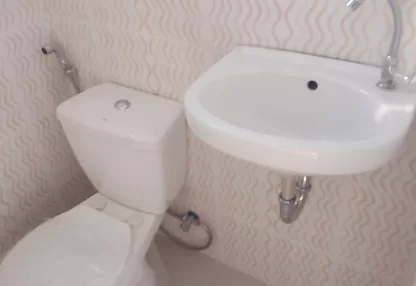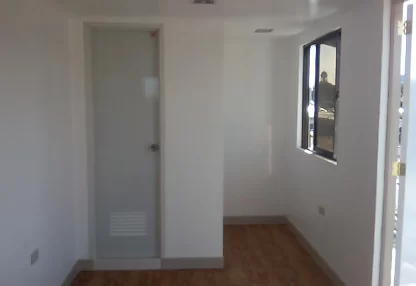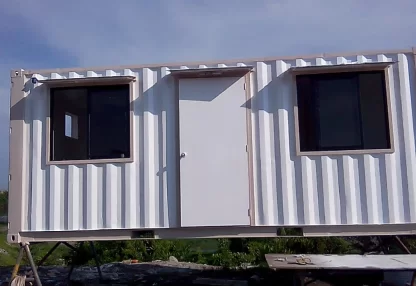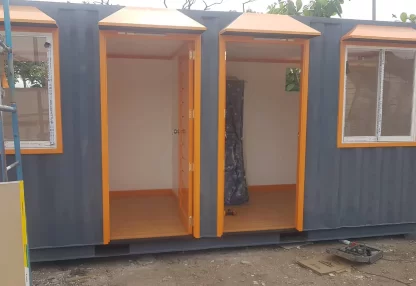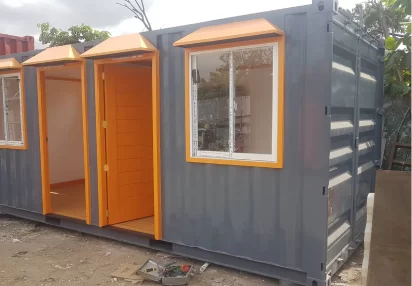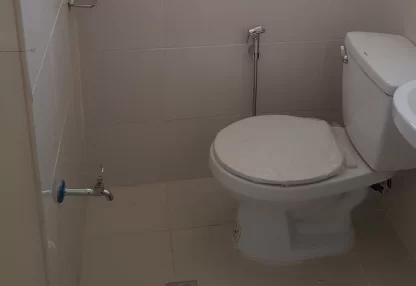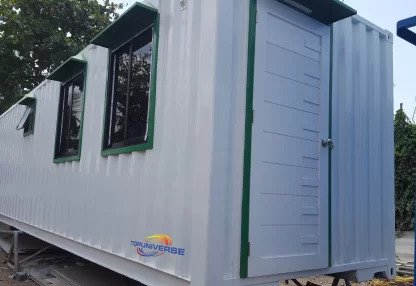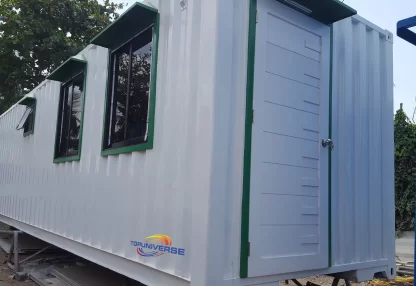 Frequently Asked Questions
Do I need a design or drawing for my modified container?
You will need to provide a basic design, so we have an idea of what you want. We can draft the rest of your design based on any changes you request; however, we don't correspond with zoning and/or permitting departments.
Can you deliver it outside of Metro Manila?
Yes, we have our own Logistics company that can deliver the Modified containers, and we can elf unload the containers.
How long does it take to modify the container?
It depends on the design, normally it will take 12-15 days for normal design. Our team will advise how many days it will take to finish it.
I have a large project in the pipeline. Would you be able to handle it?
Our 1,500 sq ft fabrication facility has an extensive staff of certified welders, electricians, plumbers, carpenters, engineers, painters and fabricators that frequently handle multiple container modification projects at a time. With such a large in-house staff and indoor facility, we're able to provide you with precise, consistently high quality custom shipping containers no matter the size of your project.
Do you offer a guarantee for modified shipping containers?
Modified containers come with an industry standard one year warranty.
Do you buy back containers that have been modified?
We may buy back a custom container, depending on the type of modifications, the condition of the container, our current inventory and market conditions.
Do you have engineers on staff that can provide drawings?
We have engineers on staff who can provide basic drawings in the process of building your custom container; however, we don't provide engineered or CAD drawings.
What types of containers do you use for your construction?
We use ISO standard containers in varying condition for modifications. Choose from wind and watertight (WWT) or one-trip containers, based on your needs and budget.
What size containers do you modify?
We can custom build anything and modify containers to any size that you need. Whether you need an extra wide container or a multistory structure, the possibilities are endless.